Ah, good old WordPress page builders and theme builders. Boy, do they seem to be getting ever more popular? You find the one you love using the most, then a couple of months later, you discover a completely new one. Before you know it, you have a dozen page and theme builder tools that you've purchased sitting on your computer doing nothing. Am I right?
No, seriously, there's absolutely nothing wrong with this. It makes sense to have a variety of tools in your toolbox, especially if you're a web designer, there's always going to be an occasion where you'll need to use a different plugin or theme builder for a specific project.
What are page builders and theme builders?
It's pretty self-explanatory, as the name suggests, a page builder is a tool you can use to build, design, and style custom page layouts in WordPress, and a theme builder is the same thing but a full-blow drag-and-drop WordPress website building tool.
Over the last few years, I have discovered and used many varieties of page builders and a few theme builders. Some I've used once and never again, and some I use almost every day in my business as a web designer.
If I had to put them in a specific order of which I thought was the best, it would be pretty hard. I've enjoyed using most of the page builder tools I've gotten to lay my hands on over the years, and sure, a few have become my favorite.
Using page and theme builders vs coding
Whether you prefer to use drag-and-drop page-building tools or conventional web development practices, it doesn't matter, you are a web designer regardless.
Some people prefer to use page builders and some people prefer to use good old conventional coding methods with HTML, CSS, PHP, and JavaScript to create websites. I prefer to have the best of both worlds.
Right, enough ranting from me. Below, I've compiled my top ten of the best WordPress page builders and theme builders for 2022. Now, please don't grill or shoot me if I put this list in an order that you don't agree on, this is purely my opinion based on my personal experiences with these tools, OK?
Right, let's get to it.
| Page Builder | Premium Fee | Website |
| --- | --- | --- |
| Thrive Architect* (Page Builder) | $19 / $67 / $97 | View |
| Beaver Builder (Page Builder) | $99 / $199 / $399 | View |
| WP Page Builder (Page Builder) | $39 / $59 / $99 | View |
| Gutenberg (Page Builder) | Free | |
| Live Composer (Page Builder) | $49 / $79 / $99 | View |
| Cornerstone (Page Builder) | $39 / $200 | View |
| Website/Theme Builder | Premium Fee | Website |
| --- | --- | --- |
| Oxygen Builder (Website Builder) | $99 / $149 / $169 | View |
| Elementor* (Website Builder) | $49 / $99 / $199 | View |
| Divi (Website Builder) | $67 / $187 | View |
| Visual Composer (Website Builder) | $59 / $149 – $349 | View |
Top 10 Best WordPress Page Builder, and Website Builder Plugins for 2022
Let's start from No10 and work backward to No1!
#10. Cornerstone by Themeco
Cornerstone is a real-time, front-end WordPress page builder tool developed by Themeco. This is a relatively new building tool but certainly, one that is promising, and one that comes with plenty of goodies.
Cornerstone is flexible, lightweight, and is built on three key web design structural elements –
Sections.
Rows.
Columns.
Features include icons, custom images, animations, custom shapes, feature boxes with alignments, Google Maps, sliders, interactive elements, marketing elements, call-to-actions, responsive texts, and more.
Cornerstone works with both pages and posts and is compatible with WooCommerce, Gravity Forms, and WPML.
This is a premium plugin and is available from CodeCanyon for just $39 for a regular license, or $200 for an extended license. Learn more here.
#9. Live Composer
If you're looking for a free open-source front-end WordPress page builder then look no further than Live Composer. No coding skills or knowledge is required to use Live Composer and you can create any type of page you need for your site.
There are premium extensions available to expand the features of this tool as well as WooCommerce integration and customizable themes. Support is great too, it includes user and developer documentation, and there's a dedicated Facebook Group you can join.
Currently, you can save 30% off Live Composer Extensions and Themes, in their Cyber Monday 2019 Sale. Check it out here. A single-site license is $49. A 5-license pack is $79, and unlimited is $99.
#8. Gutenberg
If you are familiar with WordPress, then of course, by now you will have gotten familiar with Gutenberg. Or, perhaps you're still using the old editor as a plugin.
Gutenberg is the block editor for WordPress. It makes creating non-linear WYSIWYG content possible at long last.
At first, I didn't see much use or appreciate the benefits of Gutenberg, but after using it for some time, and seeing some exciting new features and functional blocks being added along with improvements, I'm enjoying using it even more.
Gutenberg allows you to create great-looking blog posts and content-rich pages using drag-and-drop blocks. Each block comes with its unique settings and customizable options.
Gutenberg is free and comes as the default editor for modern versions of WordPress.
#7. WP Page Builder
WP Page Builder is another free point, click drag-and-drop page builder plugin for WordPress created by Themeum, with a similar look and feel to the Elementor or Thrive Architect user interface.
This is one of the simplest tools you can use, and whether you're just starting or you're an experienced developer, I think you'll have fun using WP Page Builder.
Of course, there is a premium version of this plugin, however, the free version comes with a host of features that will keep you busy, including customizable fonts and colors, building blocks, unlimited undo-redo features, predesigned templates, developer options, and more.
Price-wise there are three plans to choose from. A single license will set you back $39 per year. A 5-license pack will set you back just $59 per year. And the Unlimited License will cost you $99 per year.
#6. Visual Composer
I find it quite humorous how all these page and theme builder software companies like to claim that their content/page builder is the best. Anyhow, here it is, Visual Composer, supposedly the best website builder for WordPress.
Features include drag and drop page editor, rich content elements, media elements, interactive elements, and social sharing. The premium features include post grids and advanced elements such as hover sections and counters, progress bars, and more.
Cost-wise, there are three plans to choose from with Visual Composer. A single-website plan is only $59 per year. A 3-license pack is $149 per year. And the developer pack is $349 per year.
#5. Beaver Builder
Beaver Builder is the most popular and widely used website-building tool for WordPress, powering more than 1 million websites. Some of the biggest names in the WordPress universe use Beaver Builder, including WPEngine and GoDaddy.
There is a free version of Beaver Builder and a premium version. The free version allows you to access basic page builder features, whilst the premium gives you more control over the layout and styling of your website, including modules such as contact forms, sliders, pricing tables, social icons, and more.
The premium comes in three packages, Standard, Pro, and Agency. The Standard Plan will set you back $99 for unlimited sites and support for 1-year. The Pro will at $199 also give you unlimited sites with Beaver Builder Theme and Multisite. The Agency at $399 gives you everything included in the last two plans in addition to white labeling.
#4. Thrive Architect
Thrive Architect makes it number 4 on my list and is one of my favorite tools to use.
Thrive Architect was my first venture into using any kind of page builder tool for WordPress way back in 2015 when it was originally called Thrive Content Builder.
Thrive Architect is not a theme builder, however, it is simply a page and content creation tool, and a powerful one too. You can use it to create any type of landing page you want, from email, sales, lead generation, podcast, course content, or video page.
What makes this plugin unique and even more powerful than most of the ones listed here is the Thrive Optimize extension plugin which allows you to create A/B split testing of any landing page created with Thrive Architect.
I would say I use the Thrive Architect page builder plugin every week for both personal and client conversion design projects.
Another key element of Thrive Architect is that it's one of the easiest tools to use, developed by a dedicated team that cares about its customers.
Features include essential elements including Facebook comments, social sharing tools, click-to-tweet, Disqus comments, post grid, Google Maps, and more. There are also a lot of conversion-focused building blocks such as CTA buttons, testimonials, credit card icons, animated countdown timers, and more.
Thrive Themes are currently working on a drag-and-drop theme builder based on the foundations of Thrive Architect, so I'll be sure to add it to this list when it's finally released and I get to test-drive it.
Thrive Architect is not free but is available in a few ways. You can either purchase the plugin on its own for $67 for a single-site license. Or you can get a 5-license pack for $97. Or you can pay $19 per month (paid annually) for Thrive Themes Membership which gives you access to all of Thrive's premium conversion-focused products.
By the way, you can check out my full review of Thrive Architect here.
#3. Divi
Elegant Themes claim that its website builder Divi is the world's number One WordPress theme and visual page builder. Well, from a technology standpoint, Divi is certainly a bright and exciting advanced tool with plenty of built-in next-gen features. This is one of these tools you simply need to have in your toolkit, especially if you're a freelance web designer or run a small agency.
Talking of features, Divi has so much to offer I don't know where to start, from basic building blocks to advanced design elements, it has it all – Call-to-actions, sliders, forms, testimonials, and over 800 pre-made templates.
What makes Divi shine is the design interface, it's modern, intuitive, and really fun to use.
When it comes to help and support you're in good hands. You get access to documentation, 24/7 support, developer docs, and a huge community of users.
Divi is not a free tool but a very affordable one. It will cost you $89 for an annual license to use on unlimited sites. Not only that but you get access to more than the Divi website builder tool. You also get access to all Elegant Themes tools, including the awesome Monarch social sharing plugin.
#2. Elementor
At two is Elementor, yet another very popular page and theme builder plugin for WordPress, but guess what! They too claim to be the No1 WordPress page builder in the world.
This is getting ridiculous now.
Anyhow, Elementor is free to download from the WordPress repository and the free version comes with a lot of cool features, including predesigned templates and blocks, responsive design, undo and redo, customizable templates or start from complete scratch, and more.
The pro version of Elementor, known as Elementor Pro, gives you a WooComerce Builder, Pop-up Builder, and powerful Theme Builder, everything you need to build a great-looking site for yourself or your clients.
Elementor's main editor shares similar characteristics as that found in Thrive Architect. Features include obvious drag-and-drop editing, basic and advanced elements, global options, marketing elements, developer-friendly elements, over 300 designer-crafted templates, and more.
Elementor Pro has 3 price plans, Personal, Plus, and Expert. Prices start from $49 a year for single-site use. $99 for three websites and $199 for a thousand websites.
#1. Oxygen Builder (No1!!!)
Yep, here it is in all its glory! Oxygen Builder makes my No1 list!
I've been using this powerful tool in my business as a web designer/developer for just over a year now and it's nothing short of a technological miracle. At least, for me and my clients anyway.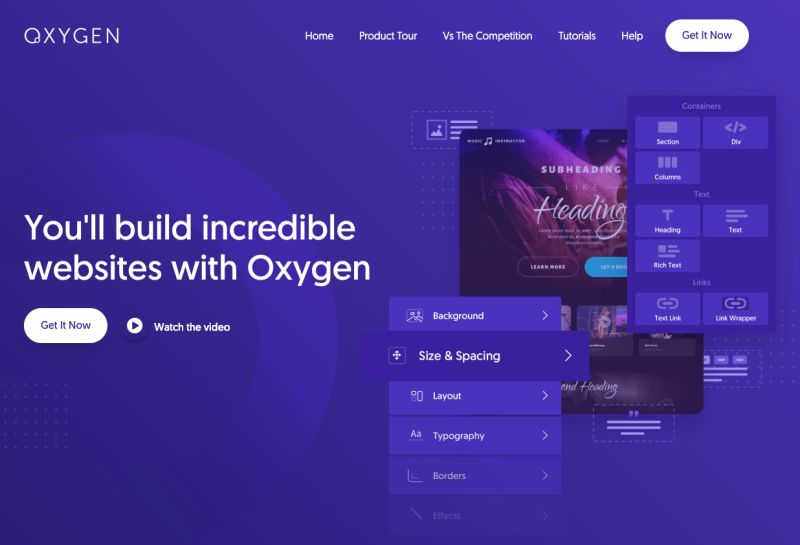 I know Oxygen Builder or even any of the other mentioned tools above are not for everyone, and each user will have their personal preference and choice of tools. I respect that, but for me, Oxygen Builder works for several notable reasons –
It's lightweight, meaning I can build websites without bloating them with unnecessary code.
It's fast! Using the tools is seamlessly quick, furthermore, the sites load up very fast.
With great flexibility, I can design any kind of site I want from the ground up, from a simple brochure or info site to a niche site, to an eCommerce site.
WooCommerce integration completes this tool.
A growing library of powerful third-party tools is available, such as the awesome CSSHero.
It's developer-friendly, I love to have the best of both worlds, using drag-and-drop visual editing and custom code implementation.
A great library of resources, a great community behind the plugin, and technical support.
Oxygen Builder is my go-to tool of choice for all WordPress web design and development projects, though, I like to have other tools in my toolbox as well, just in case.
Oxygen Builder is a premium plugin and there are three plans to choose from, all of which are the most affordable of all the tools mentioned here. There's the Basic, WooCommerce, and Agency Plan. Basic is perfect for a simple single website and will set you back a one-time fee of $99. WooCommerce Plan is for lifetime WooCommerce websites and will set you back a one-time fee of $149. Agency Plan will allow you to build unlimited client websites for a one-time fee of just $169.
Don't forget you can check out all of my Oxygen Builder tutorials here, and also head over to my YouTube channel to get more tutorial videos.
It's a wrap!
So, there you have it, hopefully, this list will help you decide which page builder or theme builder to choose for your project, or to add to your web design toolbox for building client websites. I will update this post in the future, but until then explore the above tools and have fun.
Which theme builder or page builder do you use, and why?
If you have a favorite drag-and-drop page builder or theme builder plugin that you like to use, and one that I've not mentioned here, please let me know which one. Share this post on social media along with a comment about your favorite WordPress tool.
If you have any questions regarding any of the plugins or tools mentioned in this post please get in touch with us and we will try and answer them the best we can.