Project: Van Marciano Paintings Ecommerce Responsive Website Re-Design
Van Marciano Paintings is a business that I started back in 2005. I originally launched the website on a DIY platform called Moonfruit before moving over to WordPress in 2010.
Van Marciano Paintings was my first online business venture. I started as a visual artist creating and selling original paintings online.
As you can probably imagine, the internet landscape was completely different back then. When it came to website building tools, there weren't many available. Moonfruit was a flash-based DIY site builder, which I found useful at the time.
In 2010, I decided to transition the website over to WordPress, with a completely new domain name. In 2020, Samantha and I sat down to begin strategizing ideas for a complete redesign of Van Marciano Paintings.
Remaining on the WordPress CMS platform, the redesign would be carried out using Oxygen Builder and the WooCommerce plugin integration.
Previously, the site used a premium ready-made from StudioPress with subtle customizations. Over the years, I've transitioned many WordPress sites from ready-made to fully customized and purpose-built themes.
No two websites/brands should look the same. Whilst ready-made themes are great and easy to maintain, a purpose-built site is what makes a brand truly stand out, in my opinion.
This was the original look of the homepage in 2018
The gallery and shop used WooCommerce, and used the default layout. Whilst this looked clean and minimal, I believed it did very little to inspire customers. So, the shop, and product pages, as well as the checkout and payment pages were completely redesigned from the ground up.
Here are some screenshots of Van Marciano Paintings after the redesign process.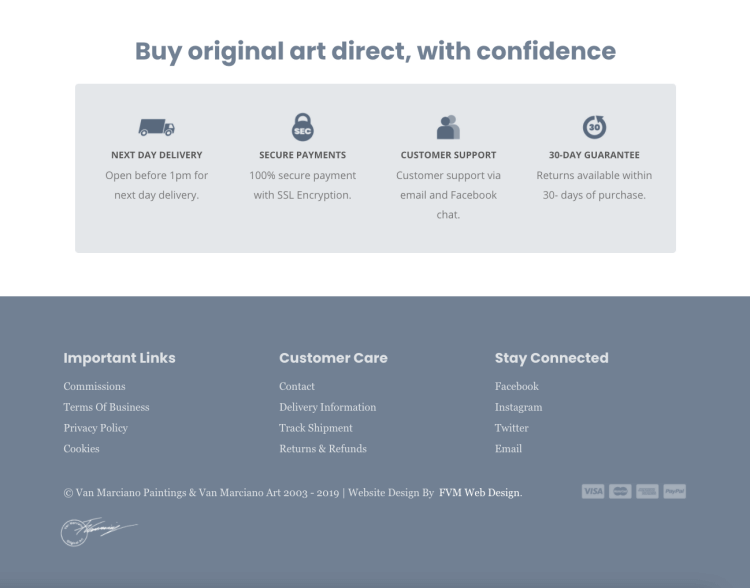 Responsive friendly design
What was also important for this website was the usability for mobile users. Many of the site visits were coming from mobile users, so making the main elements and conversion components responsive was a critical factor.
Throughout the design process, we would run each page in Google's Mobile-Friendly Test tool to ensure the site page remained usable on smaller devices.
The site's key features include –
Custom product pages.
Custom shopping cart.
Custom payment processing pages and integration.
Custom membership area.
Custom forms and contact page.
Blog.
Responsive design.
You can visit the website here.
Do you need an eCommerce website designed and developed?
We have extensive knowledge and experience building custom online stores with WooCommerce, including integrations with PayPal and Stripe to make the payment process easy for your customers. Get in touch with us below for a chat about your business and website ideas.