A few months ago, Kinsta reached out to me with some information about their managed WordPress hosting services. They kindly set me up with a free Starter Account so that I could explore some of the tools, features, and discover for myself the benefits of using Kinsta as a hosting and website management tool.
For the most part, I've been quite impressed so far using a test WordPress site as the subject. The technology, the tools, resources, are all plentiful. Performance and security-wise Kinsta seem sound, and the support look rock-solid, however, when it comes to value for money, you're certainly getting a lot of it, but I feel the Kinsta price plans are a little bit high.
Yes, they're quite expensive even when compared to the competition Kinsta is not the cheapest option. But, like I always say, you get what you pay for when it comes to professional tools and services online.
Anyhow, before we look at the pricing in more detail, we'll first dive into Kinsta's offerings. In this review of Kinsta Managed WordPress Hosting, we'll look at -
What is Kinsta?
What are the key features in Kinsta?
Why should you consider hosting your sites with Kinsta?
Benchmarking
The good and the bad? (Pros and cons)
How much do Kinsta plans cost?
Bottom line
How to signup and get started?
Website migration
What is Kinsta?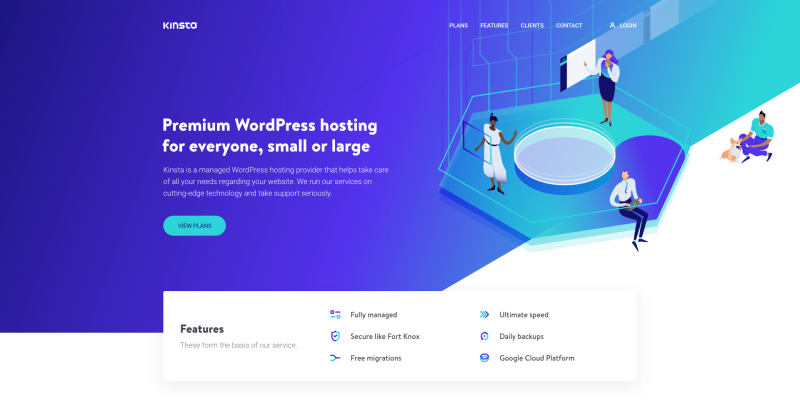 You can watch my short video overview of Kinsta I created below if you prefer.
Kinsta is a professional managed WordPress hosting provider based on the Google Cloud Platform. It provides it's services to professional businesses, from website owners to fully-fledged freelance designers and front-end developers.
Kinsta is more than just your average hosting provider, the company provides a suite of pro tools specifically catered to help you manage your entire WordPress website infrastructure in one location.
So, if you're in the market of searching for a new hosting provider that offers state-of-the-art technology, expert support, and a host that will allow you to scale up your websites automatically using analytical tools and advanced features, all in one place, then Kinsta could be for you.
What are the "key features" in Kinsta?
When you signup for a Kinsta plan, you immediately get access to top-level features like resource isolation, auto-scaling, and optimized, next-gen high-performance server hardware based on the Google Cloud Platform.
But, really, that's just the start. Let's take a closer look at some other important key features -
1. MyKinsta (Website management dashboard)
It all starts inside MyKinsta, your website-management dashboard. From here you can navigate to access everything Kinsta has to offer, from each of your website's information, site migration, site addons, DNS, analytics, user info, and access rights, support and knowledge base, CDN settings, cache, and more. Watch the overview video above.
The user interface is very clean and easy to use. Navigating to the features and options is quite a pleasure in fact.
The dashboard overview summarises all of the key features in one place, such as sites, resource usage, resource center, and invoices. My only gripe with the dashboard overview is that it's not customizable, but that's no big deal.
2. Cutting-edge technology like Nginx, PHP 7.3, LXD software containers, and MariaDB.
NGINX is a popular high-performance and incredibly stable open-source web serving software and reverse proxy server. It was originally conceived by a Russian engineer named Igor Sysoev back in 2002.
Today NGINX is used by millions of active websites around the globe including WordPress.com, DropBox, and Netflix to name a few.
PHP is a powerful interactive web page creation scripting language, whilst LXD is the next-gen system container manager.
MariaDB is one of the most popular open-source database servers in the world. It was designed by the original devs of MySQL.
So, what does all of this jargon actually mean?
For you, as a customer, it simply means having your resource-dependant website hosted on servers technologically configured specifically to handle high traffic loads.
In today's environment, speed and performance is everything when it comes to website loading and conversion rate optimization. Kinsta's own infrastructure will allow you to scale up slowly and automatically and provide you with the resources when you need it most.
3. 24/7 website monitoring and security
Security is one of the most important aspects of running any website or online business. Especially for an eCommerce setup.
Kinsta has in place technology that continuously monitors your websites for any malicious activities. This technology includes DDoS detection, hardware firewalls, and SSL support.
In addition, you can take advantage of Malware and hack removal.
I'm currently using WordFence (third-party security plugin) for scanning my sites for any possible threats or Malware, however, even at a premium of $99 per year, the removal of Malware comes at an additional cost.
So, for me, the website monitoring and advanced security features available in Kinsta looks very appealing.
4. Documentation, WordPress experts, communication, and chat support
Help and support should not be an afterthought, especially in web hosting services. I'm sincerely considering migrating all of my sites to Kinsta in the coming months myself and in early 2020. (I will keep you posted on this).
Kinsta provides help and support in the following ways -
WordPress experts are readily available.
Well documented knowledgebase.
Q&A area via MyKinsta.
To contact a support team member, you can email Kinsta via the contact form/page. You can also log into your MyKinsta member dashboard and chat to a support team member quickly using their chat feature. See below.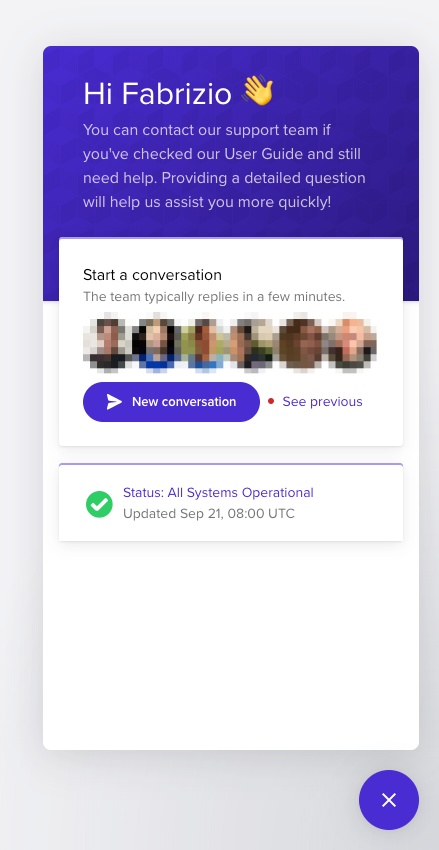 Other notable features of Kinsta
So, we've looked at the four main features, MyKinsta tools, and resources, technology, and hardware, security, support, and documentation.
As a customer of Kinsta, you can get access to -
Free and premium site migrations, ideal if you're thinking of hopping over from your current web host. (1 free migration with the Starter Plan)
Frequent uptime checks (Every 2 minutes).
Datacenter selection.
One-click WordPress installation.
One-click staging and cloning environment, perfect for web designers and developers working with WordPress, or if you need to do some heavy customization to your websites.
Developer-friendly tools such as Let's Encrypt, WP-CLI, SSH, including support for GIT.
Kinsta System Status Updates
One other great feature that I absolutely love about Kinsta is the system status updates page.
On this page, you can access a bunch of useful information such as historical uptime data for every location where Kinsta has a datacenter. Plus information on outages, service disruption, and incidents reporting, fixes, etc. See image.
Why should you consider using Kinsta?
I'll state the obvious first.
If you're keen on the idea of consolidating all your tasks and website management activities in one location, then Kinsta would certainly help you do just that.
From website traffic monitoring to security to plugin management, the absolute essentials for any performance-optimized WordPress site are available in Kinsta.
Time is your most valuable asset, and the last thing you want to be doing is bouncing from one platform to the next managing your online businesses.
The other benefit of using Kinsta is with regards to the tools, resources, and services you can access for your sites. For example, you don't need to use an external CDN provider as this is available as an option in your Kinsta dashboard for all plans.
Or, you can also enable site cache, removing the need to use third-party cache plugin for your WordPress site. You will not need to use a third-party security plugin either with 24/7 monitoring included.
Benchmarking
So, Kinsta prides itself on performance and speed, so I did a little test for a simple WordPress website installation consisting of 3 average-sized blog posts each with a large featured image (not optimized), 1 static page, and 1 plugin installed (Yoast SEO).
I also had installed a copy of Genesis theme framework with the Genesis Sample child theme.
Here's a screenshot of the page load time, and this was done without the CDN or Cache turned on.
Not a bad result I'd say. Of course, this test was carried out with a minimally sized WordPress website with few resources not optimized for the web.
Kinsta's uptime and server response time are very impressive also. Take a look at the last 12months data from Hosting Facts below.
The good, the bad, and the ugly
Now, here are some of the pros and cons that I've found exploring and using Kinsta. Having only been testing Kinsta for a few months, I can't give more accurate details into these, however, be sure that when I do, I will update this post in the future.
The pros -
Servers powered by Google Cloud Platform.
Daily backups.
24/7 website monitoring with hack and malware removal on all plans.
24/7 support.
CDN is available across all plans.
Built-in cache plugin.
Free basic website migrations.
1 free premium migration on the Starter Plan.
Free SSL.
Ability to create a staging environment for your live sites.
SSD storage.
20 global data center locations to choose from.
Pro developer-friendly tools.
Addons are available across all plans.
High number of 5-star reviews and recommendations.
And the cons? I actually don't like calling it cons, but here goes.
The price! $30 per month starting price could be considered quite steep for a single site plan, especially when you compare it with SiteGround or Bluehost's managed WordPress hosting offerings. See below.
Addons are useful but seem quite expensive at $100 per month per addon.
SSD storage a bit low on some plans.
How much does Kinsta cost?
Well, you now know that a single WordPress website license will set you back $30 per month or $300 per year for the Starter Plan.
If you have more than one site, here are the following additional plan options -
Starter Plan 1 site - $30 monthly, or $300 annual
Pro Plan 2 sites - $60 monthly, or $600 annual
Business Plan 5 sites - $100 monthly, or $1,000 annual (Save $200)
I want to quickly mention that the Starter Plan gives you 5GB SSD storage. The Pro Plan gives 10GB SSD. However, the 5 site Business Plan only provides 15GB of SSD storage. I'm not entirely sure why this is and not 25GB, this part is a little unclear to me. It could simply be because the price isn't $150 for 5 sites, I don't know.
There are other larger Business Plans available and as you go up the tier the price increases by $100. Take a look below.
Price comparison with other managed WordPress hosting providers
I'll take the cheapest plan available which is the Starter Plan at $30 per month and compare it with the following -
SiteGround Entry Managed Cloud Hosting - $80 per month for unlimited sites, 40GB SSD space, free SSL, CDN, daily backups, caching, staging, and private DNS.
WPX Managed Hosting - $24.99 per month for unlimited site migrations, SSL, staging area, backups, DDoS protection, and Malware scanning and removal, Cloud-based CDN.
Bluehost WP Pro Managed Hosting - $16.45 per month for unlimited websites, all-in-one marketing center, SEO, email, social and marketing tools, 100 free premium WordPress themes, daily backups, malware scanning and removal, staging, CDN, and spam protection.
Bottom line
The bottom line is that Kinsta is a rock-solid professional solution for managed WordPress hosting. I always prefer and recommend using managed WordPress hosting over shared hosting, simply because a lot of things are often automated in managed hosting, such as backups and updates. Managed hosting is also a lot more secure than shared hosting too.
Things are definitely looking bright for Kinsta, and it would definitely appeal to serious WordPress users, small businesses running eCommerce sites, as well as designers and developers building client websites.
It is not the cheapest hosting solution by far, but this is professional WordPress hosting, after all, you can only compare Kinsta with perhaps SiteGround's top hosting plans, or WPEngine, or Bluehost's managed WP hosting services.
For the most part, I like what Kinsta are doing and I'm now considering moving all of my sites over to them in the coming months.
I have 4 websites, so currently I'm paying just $35 per month with SiteGround, so jumping to $100 per month would be quite a big leap. But I also use a few premium third-party services like WordFence and BlogVault backup and migration which adds to the monthly cost.
Consolidating all of these by using just Kinsta makes sense, at least for me. Again, I'll keep you posted.
How to signup and get started with Kinsta
Step One - Select the plan you require. You can signup using this link to view the price plans. In this instance, we'll select the Starter Plan.
Step Two - Enter your email address and name. Add a memorable but secure password for your hosting account and click on the Continue button.
Step Three - Enter your billing information and payment information. Review your payment summary carefully, and once you're happy click on the Finish Up button.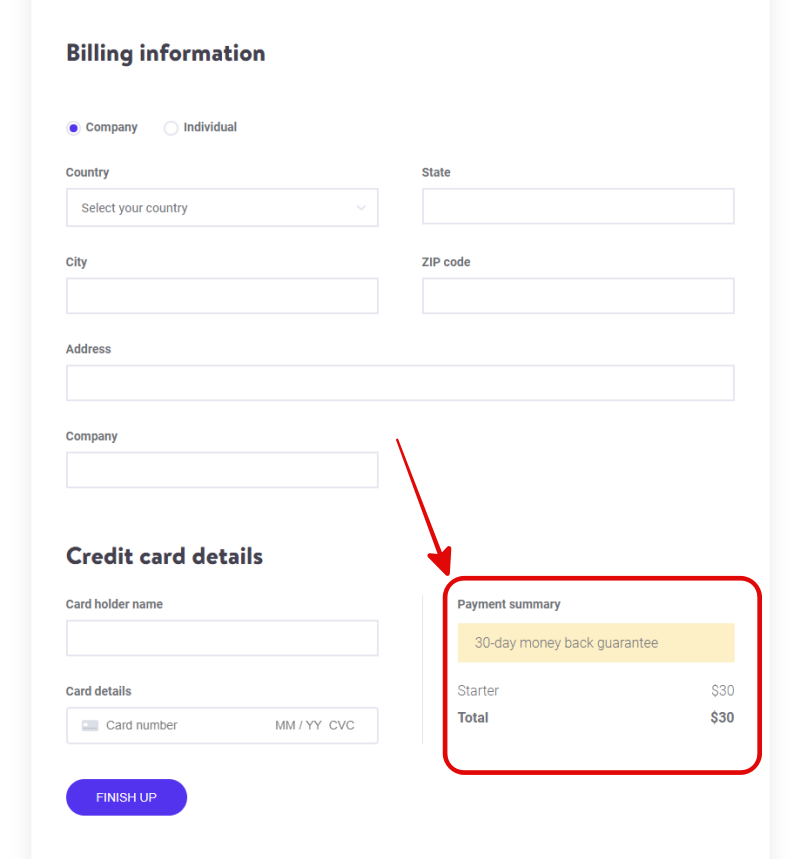 Your payment will be processed and if successful you'll be taken straight to your MyKinsta dashboard where you can begin setting up your website. See the video above on how to get started.
Website migration
If you need to migrate your website from your current host, free basic migrations are available with Kinsta.
You also get 1 premium migration credit which you can use to migrate one site from either A2Hosting, Bluehost, Cloudways, DreamHost, Flywheel, GoDaddy, HostGator, Pagely, Pantheon, SiteGround, tsoHost, or WP Engine.
It's a wrap!
Right, that's it from me. I hope you got a good insight into Kinsta, and I hope you'll consider it as your web host provider now or in the future. I've tried to be as honest and as transparent as possible in this review. If you have any questions you can contact Kinsta and I'm sure they'll be more than happy to assist you.
Best of luck.
Affiliate Disclaimer: As an affiliate of Kinsta, SiteGround, Bluehost and ShareASale, I earn from qualifying purchases. If you decide to purchase using any of the affiliate links in this blog post, I will be paid a small commission at no extra cost to you. Thanks in advance!