How do you create a clean, modern-looking website? What design elements do you need to use, or not use, to make your website look minimal, bold, and professional for your business?
First of all, long gone are the days when a website used to look like the classified sections of the back of newspapers.
Do you know the ones I mean?
It's where everything is literally thrown on one page, usually the homepage, and crammed so tightly together with lots of colorful and flashy icons, tiny images, silly little gimmicks, useless banners, and hardly any space between content elements.
And, talking of content, usually, there was very little of it.
Oh, wait a minute, a little similar to the website shown below.
I wish I could tell you that the screenshot of the website above doesn't really exist, but it actually does.
It is managed by a successful UK entrepreneur in the name of Ling Valentine, and believe it or not, his website is quite popular.
Hardly surprising when it looks like that, right?
I know what you're wondering:
Should this be the look to go for in your quest to create a modern website design that works for your business?
No, is the short answer.
Creating a minimal website design is NOT about cramming as much as you can on every single page. If anything, it's completely the opposite.
It's about creating clarity and simplicity.
Less means more, right? Well, more or less it does. Not to confuse you there.
When designing a minimal-looking website for your business, you've got to keep an open mind on a few essential things –
Usability.
Functionality.
Whilst focusing on creating a website that is clean and minimal, your modern website design project needs to be user-friendly and have all the functionality needed to help you increase conversions.
Your website users and would-be customers need to be able to enjoy navigating around your website with ease.
So, if you're thinking about a complete website redesign, here are 6 essential elements of modern website design you shouldn't ignore.
Let's get started.
#1. Minimal design
Number one on my list, although, I've already used the word 'minimal' several times already in this post.
Minimal design is exactly how it sounds, less is often best.
Minimal design can be applied to any style, be it flat, bold, elegant, classy, or boutique.
Minimal design in websites is essential for helping to create focus and clarity for your site users. It helps users to stay focused on your content and makes for simple navigation around your site.
With minimal design, sometimes less can appear as more. Some website designers will try to balance the essential elements of a page. i.e. content, forms, images, and other visual content, and put adequate amounts of white space around those elements.
If you are at all conversion focus minded, you'll appreciate the benefits of having a website that boasts minimal design.
A website that is designed with minimal elements:
Is easier to manage.
Loads much quicker than websites that have a lot of options, features, and elements, and that are content-heavy.
Helps users to focus more on your content.
Is less distractive and better at converting.
Makes your business look more professional.
Is easier for your visitors to navigate around and use. As I've repeated several times already.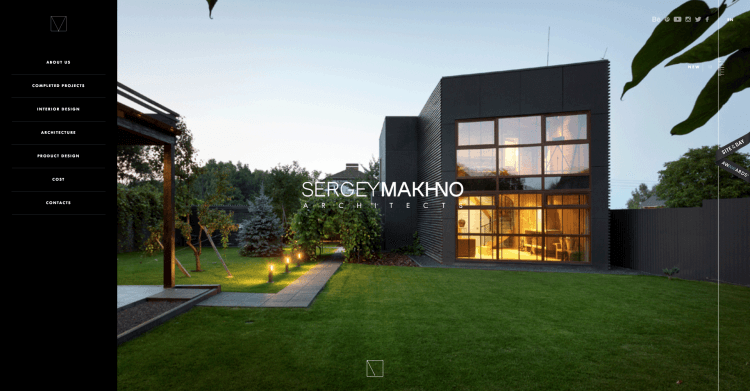 Design architect Sergey Makhno's website is a fine example of minimal design.
#2. Mobile-friendly (Responsive design)
Right, moving on to mobile-friendliness.
If your website is STILL not mobile friendly, then you are actually doing your business more harm than good, really you are!
In fact, your competitors are probably laughing at that they can take full advantage of the fact that your customers can't access your website, products, or services on mobile devices.
That's right, your potential customers are all going to your competitor's websites because their's are accessible on mobile devices.
If you're happy to throw money down the drain and sink your business into a hole, then don't worry about creating a mobile-friendly website.
Look at these statistics. I think then you'll fully appreciate the importance of having a mobile-responsive design.
What I recommend you do if you don't know whether your website is mobile-friendly or not, is to test it here.
#3. Web-safe typeface
Modern website designs will also boast safe, clean, and bold typography.
Clean typography will include the following elements –
Use of web-standard fonts.
Correctly sized text, usually bigger than 16px. FabrizioVanMarciano.com uses 17px for body text for improved readability.
Adequate line spacing for improved readability. I recommend 1.9em/
Limited use of different colored fonts.
Grey or black typography, depending on the background tone/image.
If your website is still using a font size of 12px or less, then it's well and truly frozen in time. Increase it, making it easier for your users to read your web copy.
#4. Hero images and banners
The use of large hero images is another very popular modern website design tactic.
In fact, this trend has been steadily increasing over recent years according to Google Trends. Take a look at the screenshot below.
Hero images are essentially large banners, usually visible above the fold of web pages.
Obviously, these images somewhat relate to the nature of a website or its content.
A well-designed hero banner and well-crafted marketing message are the best way to inform your website users what your website is about. Relevancy is key here.
If you visit the homepage of FabrizioVanMarciano.com for instance, you'll see that there's a nice big hero section containing an image of myself working on my laptop in the background.
My message is clear and concise and this helps to let people know what my website is about, and essentially, what I'm about too.
Many other personal brands, coaching, and consultancy websites make very effective use of hero images and banners too, usually to help them establish a positive connection with their website visitors and on a personal level too.
Here are a few entrepreneurs who do this very well with their personal brand hero images.
Chris Ducker of ChrisDucker.com makes exceptional use of his hero image.
So does Mariah on her website at Femtrepreneur.
#5. Fullscreen background videos
Have you noticed how some websites have custom videos playing in the background headers?
Well, this is another trend in modern website design that is becoming increasingly popular.
Check out the trend growth in Google Trends for this one.
The use of background video in websites is achieved either through some hard coding done with custom HTML, CSS, and a bit of JavaScript.
Or, if you're not too comfortable with code and want to save time, and money and retain a little bit of your sanity, you can discover some plugins that will help you create a background video for your WordPress site quickly and easily.
If you are at all interested in learning how to create a background video in WordPress yourself, check out this video tutorial on YouTube.
The popular page builder, Thrive Architect, will allow you to use background video in your page design and hero sections.
Lastly, check out Coulee Creative's website for a fine example of a fullscreen background video in action.
#6. Ghost buttons
OK, so lastly I want to share with you a design fad in modern websites that you might be familiar with, and that's the use of ghost or transparency buttons.
These buttons usually come in white or with a transparent background.
You'll usually see them embedded on top of a hero-image or visual graphic of some kind. See below for an example.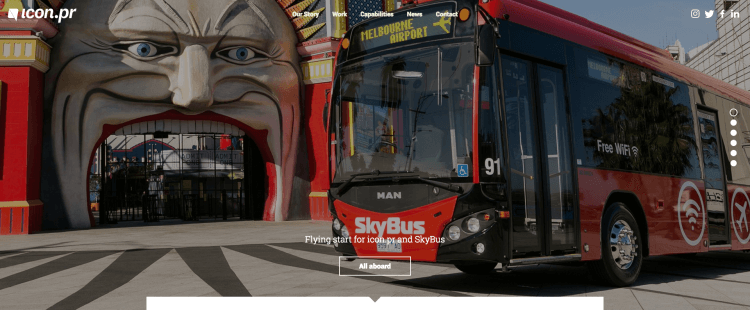 I will admit, I love ghost buttons myself and I think they look great on some websites.
That said, when it comes to optimizing for increasing conversions, the use of ghost buttons may not always be such a great idea.
In a recent case study on Elevated Third, tests found that solid-colored buttons performed much better than ghost buttons.
It's not hard to see why either.
If you look at the screen capture above, again and closely, you will see that the ghost button at the bottom of the page is in fact almost invisible in contrast with the background image. It doesn't stand out as much.
Do you agree that it doesn't really stand out?
Here's another one –
The point is, if you're going to use ghost buttons in your modern website design, just make sure you make them visible, and not hidden over poorly contrasted images or backgrounds.
The best way to make your ghost buttons visible is to use some kind of gradient or filter effect over your hero images.
Wrapping things up
So, there you have it, 6 fresh modern website design trends to inspire your next web project.
Of course, you don't have to go out and invest all your time, money, and energy in using every single element to make your website more fitting with the present times.
At the end of the day, user experience and fulfilling the needs and desires of the people consuming your content should be a top priority.
Also, I want to state that good copywriting and having a solid marketing message are part of the overall design architecture too. Good copy should never be an afterthought in modern website design, it should be part of it.
Best of luck in your design quest.
Need help with your WordPress website design and branding? Click here to learn more, or fill out my web design questionnaire form to get started
Note: This post may contain affiliate links to products or services that I use in my business and therefore recommend as a designer and developer. This means if you click on an affiliate link and make a purchase of a product or service, I may earn a small commission, at no additional cost to you.