If you're seriously thinking about upgrading your web host for your WordPress website, there's a bunch of options available to you. One of those options is using SiteGround's managed WordPress hosting service, which serves as my review for today.
I started using SiteGround back in 2015, and over the period of the last 4 years, I've experienced nothing other than a great all-around service with this hosting provider.
When you experience great service, naturally you want to recommend them, and that's exactly what I've done over the years. I've recommended SiteGround to dozens of clients and friends in the last few years.
Now, whether you are completely new to the world of website building or you're thinking about migrating your existing WordPress website from another host, I urge you to consider SiteGround's managed WordPress hosting service.
OK, so here's what we're going to be covering in this review.
What is SiteGround's Managed WordPress Hosting?
What's are the main benefits of using this service?
What else can you benefit from?
How much does it cost?
What are the pros and cons?
What're the best alternatives?
Where do I signup?
Now, you may think that I'm going to give you a completely biassed review of SiteGround. Sure, they're a great hosting provider to consider, but there are a few issues which I'll address in this review, I want to be as honest and transparent as I can. Now, let's take a closer look.
What is SiteGround's Managed WordPress Hosting Service?
SiteGround is one of the best hosting providers in the business that come highly recommended by WordPress.org themselves.
The managed WordPress hosting service provided by SiteGround is designed for all WordPress users. So if you're looking for a more reliable, secure, robust hosting platform that will help to improve the performance of your websites, you may want to consider using them.
You do want your website to load faster, don't you? Of course, you do. Who doesn't want that?
Click here to get SiteGround's WP hosting (From just $2.95 per month)
What's are the benefits of using this service?
It doesn't matter what type of WordPress website you have or you're thinking of building, it could be a blog, e-commerce site, video sharing site, if you're on WordPress, you benefit from this particular service. Here's how:
Automated WordPress installation and powerful starter tools – If you're starting from total scratch with your website project, SiteGround's automated installation service and tools will help you launch your site fast.
Free transfer – If your site is hosted somewhere else and you're worried about transferring it over to a new host, SiteGround's FREE website migration service will certainly make your life easier. This is a service that I used myself when I moved over from Bluehost back in 2015.
Managed security updates – Website and hosting security is of paramount importance these days, especially if your website is your main business. WordPress sites are notorious for getting hacked into, and you want to make sure you've done everything to minimize any threats. SiteGround uses state-of-the-art server firewalls and automatically updates your WordPress version including your plugins.
Optimal Website Performance – Speed is everything when it comes to your website loading times. A slow site impacts user-experience, and worst, your conversion rates.
Asides from the list above, the benefits of using SiteGround's Managed WordPress Hosting service means you can also take advantage of the latest technology and get access to 24/7 customer support when you need to.
What else can you benefit from?
One of the challenges that come with building an online business is investing in expensive tools and various additional services to help you manage and grow your website.
With SiteGround's Managed WordPress Hosting service, you get access to some of these essential tools, including –
Free SSL Certificates – Highly recommended if you're building an e-commerce website where your customers will be imputing sensitive data such as credit card information.
Daily Backups – What if something were to happen to your site? Or what if you made an accidental error that caused your site to go down? Backups are so important in such instances, and SiteGround's daily backups have got you covered. You can restore your site to a previous version if you really need to.
Free email service – Create email accounts specifically for your business using WebMail and forward your emails to your primary email address. This helps to keep business/website related emails organized, and it also helps to make your website look more professional to your customers.
Staging tools – This essential tool helps you to create a staging version of your live site to test themes, plugins, or even make improvements before pushing them to your live site. I've found this very useful myself because when I'm making design changes to my own site, I don't want it to affect my user's experience over on my live site.
Dev Toolkit – For more advanced WordPress devs and users.
Free CDN – With a CDN service like Cloudflare, your WordPress website content is distributed from various geographical locations. This helps to make your website load much faster.
Incredible tech support
Yep, you also get access to top-rated support by WordPress and hosting experts via phone, chat, or support ticket.
In the few instances that I've been in touch with SiteGround's support team over the years, I've only ever experienced their chat service, which has always been fast and efficient.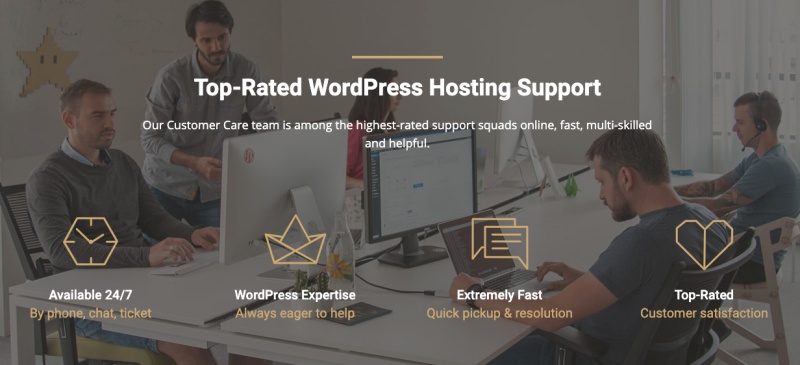 How much does SiteGround's Managed WP Hosting service cost?
Of course, you would expect a dedicated service like this not to be the cheapest around, right?
Well, actually, it's very affordable compared to similar services offered by other hosting companies like Bluehost's WP Pro hosting, for instance.
Here are SiteGround's plans and prices: (Correct at time of publishing this post)
Click here to get SiteGround's WP hosting (From just $2.95 per month)
What are the pros and cons?
The pros are simple –
You're hosting your WordPress website with one of the most popular, reliable, secure, and technologically capable hosting providers in the business.
You benefit from a host of added features and options as we discussed above, including backups, free SSL, and more.
You get access to top-rated, professional support 24/7.
With each tier/plan you get access to adequate resources, CPU usage, bandwidth, unmetered traffic, etc. As your website grows, you can scale up to a larger plan.
You benefit from 99.99% server uptime. I've used SiteGround since 2015 and in the last four years, I've experienced 100% uptime, I can proudly say.
And here are some cons, if you want to call them that –
Prices may increase dramatically after your first year with SiteGround. I found that to be the case when renewing my hosting plan after the first year. It was almost triple the amount I paid for the first year.
No free Malware detection or scanning tool included. This is extra.
If your website does get infected with Malware, you may get an automated email from SiteGround stating that they will shut down your hosting account if you don't sort it out. This can be quite scary and make you feel helpless. This is the feedback that I've heard from other users that I've spoken to in the past. Just make sure you are taking additional security measures to stay on the safe side.
FAQ's about SiteGround's Managed WP Hosting
What are the most important things you should consider when finding a good web host? – Security, reliability, speed, level of customer support, customer feedback and testimonials, the technology used. It's not always about using the cheapest service available, often those services come at the price of degraded service.
What is meant by the term "managed" in web hosting? – Managed hosting is hosting that is managed for you, rather than you having to log in and manage the server yourself, such as load balancing, server configuration, backups, maintenance, and monitoring, etc.
What are the alternatives? – Bluehost's WP Pro hosting service, HostGator's Managed WP cloud hosting.
Where do I sign up for SiteGround?
If you're ready to make the move to SiteGround or start your website project with SiteGround, you can start here or click the link below.
If you're just starting out, SiteGround will take you through the steps to purchase a domain name, install WordPress, and begin configuring your hosting account and website ready for launch.
Click here to get SiteGround's WP hosting (From just $2.95 per month)
Best of luck.